CANZA GOLDEN RETRIEVERS
AVAILABLE ADULTS.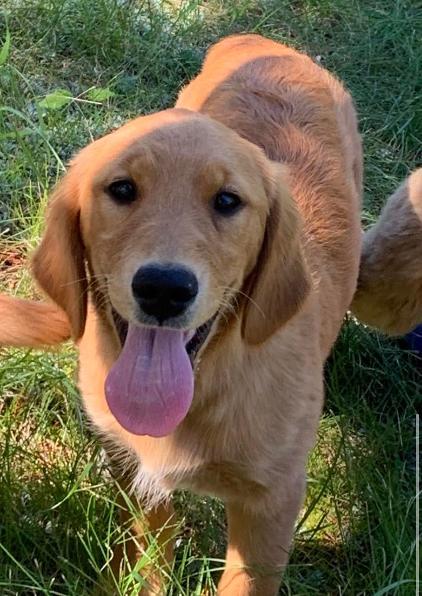 Cinni at 4.5 months old not Available.
May 29, 2023
Hershey is retiring and looking for her perfect home.
I also have a 14 month old male and female available. Either as guardian placements ($1500) or as pets ($2500)
As well as I am looking for a special home for Hunter
Please contact for more information
If you are interested in joining out Guardian Program please contact me!
** Please read our FAQ page to learn more about the older puppies/ adults that we place**
Image of our available boy Rocket! (He is going for a trial at a new home in June)
Rocket
17 month old CKC Registered Male Golden Retriever
Parents both cleared on Hips, Elbows, Heart (echo cleared) and Eyes cleared before breeding. He will be sold on a neuter contract to be neutered between 20-24 Months Parents are both Canadian champions Rocket is an absolute sweetheart of a dog. He lives to please his people and gets along with every dog he has come across. He has his basic training and house training down pat, he has done a bit of land work with birds but hasn't had much chance to swim (he swam twice this summer and both times were a performance
) this year our pond wasn't in the best shape for swimming. He adores my kids ( ages 8&6) and gets along with the calm barn cats. He will chase cats if they run. We have some who can't even be bothered by the dogs existence and just walk right under their noses and he just ignores those one. The ones who run well he does enjoy the chase but has never harmed them. He is currently insured with PetSecure and the policy is transferable to his new owners. He is $3000 on a CKC non-breeding agreement. Reason for placement I have his full brother who I prefer just a bit more to carry on the breeding program with.
GUARDIAN PLACEMENTS AVAILABLE
(please see the
guardian
page for more information about the program)
Bios and pictures to be posted soon.
Zoey 12 month old Female Golden
Foxx 12 month old Male Golden